Antarctica NWYD Demo
A downloadable game for Windows, macOS, and Linux
Antarctica,1988.
Russian Vostok Base last radio communication: 2 weeks ago.
Crew status: Unknown. Possibly starving. Possibly dangerous.
Objective: Investigate camp. Be carefull.
Over.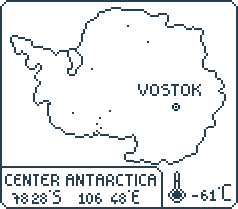 Download
Install instructions
WARNING!!! Your antivirus could protest installing Antarctica NWYD.
Don't worry, it's just a no firmware game!!!
To install : double click on the .exe
To uninstall: Control panel
Controls: Arrows : move X: action I: Inventory F: lighter Esc: Pause Q: quit alt+F4: ragequit.
Consider to support this game with a coffee!! ko-fi.com/barelygames
Soon we will try to communicate our intentions better. Please consider this game as an experiment (with bugs !;)
Here some animation test!